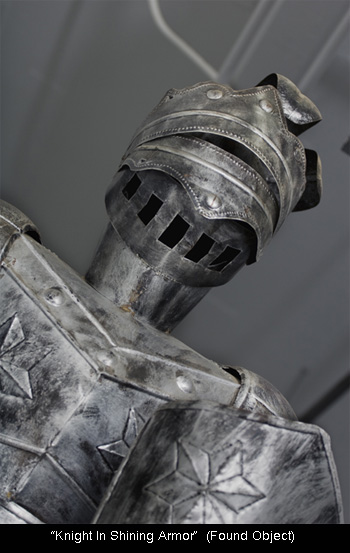 SHEILA FINNIGAN "ILLUSIONISTIX"
PLEIADES GALLERY 530 West 25 Street
April 14 – May 9 Chelsea, NYC
tel: 646-230-0056
Receptions: April 16, 6-8PM, April 18, 4-6PM
Open: Tues-Sat 11-6
In her sixth New York show, inspired by a suit of armor, pictured to the right, Sheila Finnigan creates a show of large scale mixed media painting, found object sculpture, sound effect, and excerpts from her narrative poem dripping jewels to focus on the Middle Ages and its tapestries of unicorns and knights.
William Zimmer, New York Times, 2001 said, "Finnigan's work is immediately appealing." "Powerful work!" said Cornelia Seckel, publisher of New York's Art Times in October 2008. "Her unpredictable transmutation of materials invariably amounts to aesthetic alchemy of the first rank," says Ed McCormack, editor, Gallery and Studio, New York, Sept/Oct 2008.
Donald Kuspit, art historian and professor at SUNY Purchase, twice has curated and awarded her top honors
in international shows. Twice featured in New American Paintings, with an extensive resume of shows, reviews, and awards, and in collecitons such as "Wall Street Journal" arts critic Joel Henning, Finnigan "distinguishes herself as a painter, installation artist and conceptualist of highly original gifts." McCormack, id
Paintings featured in the show are two large scale mixed media works (gesso, charcoal, pastel, pencil, thread, flowers, film, record) after the French Unicorn Tapestries entitled, "The Language of the Unicorn" and "The Rebellion of the Unicorn."
This show is dedicated to the memory of the artist's sister, Carolyne, d. March 9, 2009.